Dubai is known for its arid desert dunes and glittering skyscrapers, but in recent years the city has also become a stunning coastal destination. The golden city of Dubai, with its long coastline and white sandy beaches, provides serious competition for this tropical island. We can also say that Dubai is not just skyscrapers: this multitasking destination in the United Arab Emirates is also a paradise for beach lovers. With the idyllic weather from October to May, the beaches become a major attraction.
The Dubai government has worked hard to create safe and pleasant beaches. It is fascinating to know that Dubai also offers private beaches exclusively for women. Women come here and enjoy a variety of amenities, including changing rooms, cabanas, and beach loungers, as well as food trucks or beach restaurants. In this blog we have compiled a list of the most beautiful beaches in Dubai, the best for women! However, there is also a description of the best private beaches where men and women can spend an incredible day in Dubai.
1. Cove Beach Dubai
Cove Beach is the ideal location for the original Dubai Women's Days on Bluewaters Island. This incredible space allows you to enjoy incredible views of the Burj Al Arab while sipping on frozen drinks and cocktails of the day and enjoying a huge plate of food. In addition to a picturesque beach setting, Cove Beach offers an incredible restaurant, lounge and pools.
Bringing Cove Beach to life, the Rose Lounge Club is the ultimate venue of parties. day and night. It's fascinating to know that the space can accommodate 150 people and can accommodate up to 350 people for drinks. Visit the Rose Lounge on weekends for delicious food and hookah. Cove Beach Club is also a great place in Dubai for lunches and meetings with the best sunset view in the city.
The place has a Mediterranean feel, which has so much to offer A range of personalized services that will make you feel like royalty. Don't be surprised if you meet Dubai celebrities at this exclusive beach club. A dynamic calendar of events keeps the venue busy year-round, making it one of the safest valet parks for women.
Location: Caesars Palace, Bluewaters Island - Dubai – United Arab Emirates
Read More: POOL AND BEACH DAY PASSES ARE BACK AT LE ROYAL MERIDIEN
2. Nikki Beach Club
Located near Jumeirah and Sheikh Zayed Road, Nikki Beach Dubai is a women-only beach club and resort. Thanks to its convenient location, Nikki Beach is just an 18-minute drive from Dubai International Airport. Whether you are a guest or resident in the rental apartments, there is no shortage of beach activities.
It is fascinating to know that Nikki Beach Dubai is one of the most famous luxury beach clubs in the area. In this luxurious place you can choose whether to enjoy the pool or the beach. Food and drinks served by professional staff with calm music create a different atmosphere at Nikki Beach. The beach offers a free solarium for relaxing. Furthermore there are no reservations. So arrive early to secure your bed.
The Beach Club offers private residences and suites, as well as luxurious rooms that offer luxurious living with private beach access. Additionally, Nikki Beach Resort features swimming pools, a state-of-the-art fitness center, a tranquil spa, an urban bistro and exclusive beach restaurants. Offering an entertainment hub for all, Nikki Beach Resort and Spa is considered one of the best beach clubs for women for its original concept of creating an elegant space with a beautiful combination of music and entertainment in a solid destination. On Tuesdays there is a special offer for women, who can enjoy six selected drinks at very reasonable prices from 11:00 to 18:00.
Location: Nikki Beach Dubai, Pearl Jumeirah – Dubai – United Arab Emirates
3. Drift Beach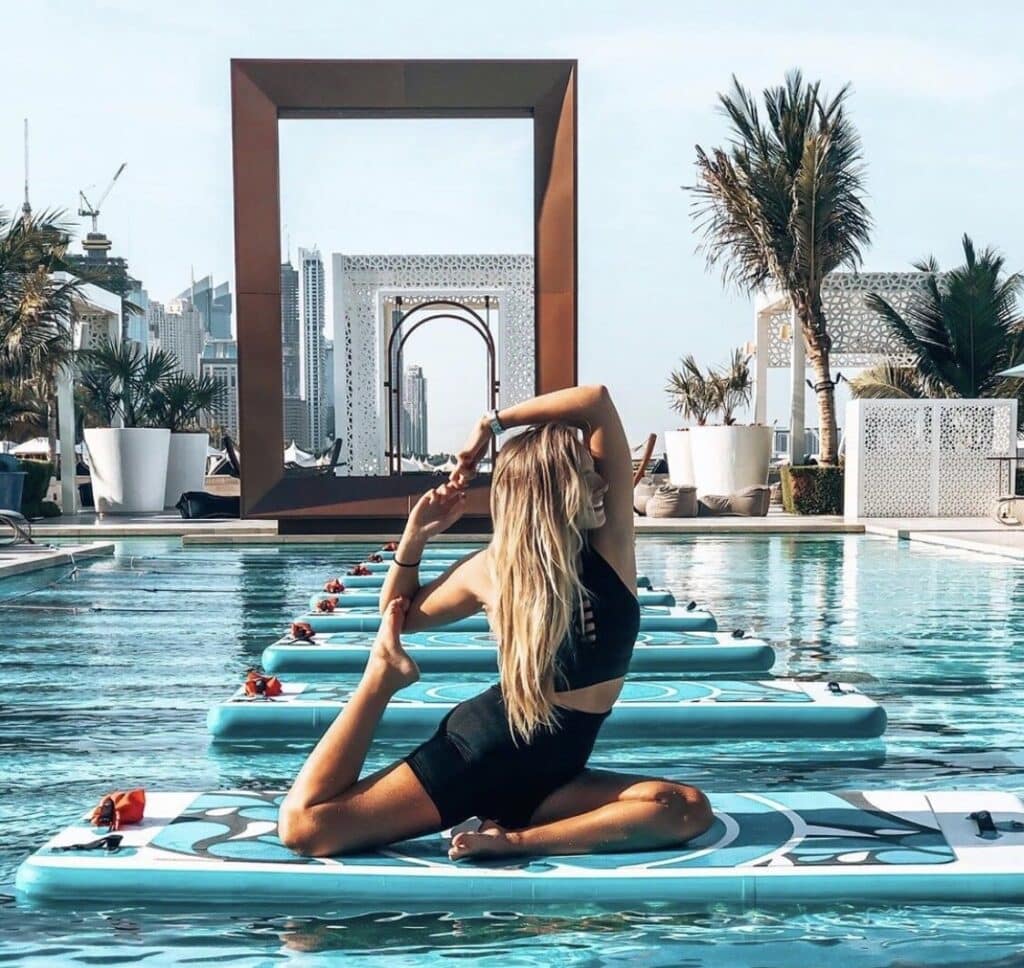 If you are looking for a luxury beach club in Dubai, there is no better place than Drift Beach Dubai. Located at One&Only Royal Mirage, the beach offers views of the Dubai skyline and the famous Palm Jumeirah. The place is known for its peaceful calm during the day, which gives it a lively atmosphere. The Drift Beach Club has a meter-long private beach with lounge chairs and cabanas. You can book a sunbed or sunbathe in winter to enjoy enchanting impressions. Enjoy the breathtaking views while sipping a delicious drink and enjoying a snack.
During your night visit, a unique and glamorous view will welcome you. You will be amazed by the sight of the lights and the DJ playing music. Added to this are stunning nighttime views of the Dubai skyline, especially the Palm Jumeirah.
Whether you visit the beach during the day or at night, Una Dining at O ​​​​The Drift Restaurant is a must-see to taste classic Provençal cuisine prepared by renowned chefs. On Women's Day at the Sea, take advantage of incredible discounts and enjoy classic dishes revisited in an innovative way to make them even more presentable. Every bite will have you praising the flavor and highlighting the excellent organic ingredients.
Now let's move on to the women's special in Drift Beach. Monday and Tuesday 50% discount on cocktails and solarium. Drift Beach Dubai is located in the Royal Mirage, a huge hit among celebrities.
Location: One&only Royal - Dubai
4. Azure Beach Dubai
With Azure Beach, you can enjoy an unprecedented day of relaxation at the elegant pool and beach. Located in the exclusive Rixos Premium Dubai, this elegant and sophisticated beach club offers mesmerizing views of the Arabian Sea. The property has a pristine private beach and an elegant infinity pool surrounded by lounge chairs. Enjoy delicious dishes, cold drinks and exotic beverages served throughout the day.
If you want to experience Dubai in all its splendor, this club is made for you. Beach . Go there with friends to have fun. Whether you are a local or a visitor, Azure Beach Club is a must visit, especially for women.
Location: Jumeirah Beach Residence, The Walk - Dubai – United Arab Emirates
Read More: Overnight Desert Safari Dubai with Private Tent and Hot BBQ Dinner
5. Barasti Beach Dubai
Enjoy mesmerizing views of the surrounding Arabian Sea, crystal clear waters and evening sunsets at Dubai's only Barasti Beach. It is fascinating to know that tourists can find a wide variety of interesting recreational activities that will entertain them for eternity. Be sure to try the fun pool activities and relax on the sun loungers while sipping thirst-quenching drinks.
Barasti Beach is incredibly famous for its beach garden. . . Roof. stunning view of the Arabian Sea. For an unforgettable day, invite your family to an extravagant candlelight dinner and create unforgettable memories that will last a lifetime. Taste delicious seafood and feel the authenticity of Dubai culture at this modern venue. To experience the beauty of the horizon, it is best to visit at sunrise or sunset. At Barasti Beach Club no two days are the same. Each visit will offer you something new and different.
As for discounts for women, Barasti beach has opened a new pool area, open for two days . is offered to women. every Sunday and Monday, from 10:00 to 18:00. Enjoy unlimited drinks, free towels and a 50% discount on additional drinks and food. Come here and enjoy a fantastic Sunday brunch.
Location: Le Méridien Mina Syahi Beach Resort and Marina Dubai Marina – Dubai
6. Al Mamzar Beach
Are you looking for a great day in Dubai? Then Al Mamzar Beach Park is the ideal place for you. Monday is a special day for women. Al Mamzar Beach offers separate areas for tourists and residents. Visitors have the perfect opportunity to participate in activities such as barbecuing, sitting outdoors and sunbathing. The beach park has five beaches with plenty of space and space for everyone.
One of the highlights of 'Al Mamzar beach is a private, cheap and excellent beach option in Dubai for families. There are many activities such as basketball, volleyball, football and bicycle rental. For those looking to relax on Mamzar's private beach, there are four well-maintained beaches to choose from and rental cabanas are also available. With its beautiful landscapes and barbecue areas, Mamzar Beach Park is the ideal place for a family picnic.
Location: Mamzar Beach Road, Deira
7. Mercato Beach Dubai
Mercato Beach has a Southern California feel with its tree-lined waterfront and low-rise condominiums. This beach is popular with locals because it is nothing special and lacks shops and restaurants. Mercato Beach in Dubai is a wide beach with gentle curves and a slope towards the water. Since Mercato is an unprotected beach, there are some waves and strong currents, so swimmers should use caution here. As this is a private beach in Dubai, lifeguards are always on duty, but like other beaches, swimming after sunset is prohibited.
Praia do Mercado It is located opposite the Mercato shopping center, which offers numerous shops and restaurants. There is also a large supermarket where you can buy supplies for a picnic on the beach.
Location: Jumeirah Beach Road – Jumeirah 2 – Dubai, United Arab Emirates
8. White Beach
White Beach – A private beach club with fine, soft sand at the Atlantis Dubai Resort is one of the most popular beaches in Dubai. The beach is located on the outer edge of the man-made Palm Jumeirah. The infinity pool and loungers are ideal for Instagram selfies. Plus, excellent customer service ensures you won't have to lift a finger. Overall, the view from Dubai Marina is truly special. White Beach is open all day; The restaurants and the swimming pool remain open until the evening. Weekends are popular at White Beach, with unlimited brunch and an atmosphere that appeals to couples and small groups.
Location: Atlantis Dubai
9. Zero Gravity Dubai
With a long, pristine beach and a huge glass pool, 0-Gravity Dubai attracts both residents and visitors. There are luxurious sofa beds offering exceptional sea views. Zero Gravity is complemented by privacy and couples can also enjoy premium service with drinks and amenities to create a seamless experience.
Zero Gravity is one of the most popular recreational activities. - and entertainment programs for your free time. Hot spot for women just a few meters from the Skydive Dubai launch area. Zero Gravity's ultra-modern restaurant and two-story terraces follow a "day to night" concept. From an idyllic breakfast to a laid-back brunch by the pool and on the beach, Zero Gravity's food is designed with relaxation in mind because it's always delicious. Furthermore, DJs are available to entertain guests throughout the day. As night falls, the Zero Gravity venue transforms every weekend into a cutting-edge open-air nightclub.
Whether you want to enjoy the limits of the pool or simply if you want casual dining, Zero Gravity has it all. Escape the hustle and bustle of Dubai and head to this award-winning location offering exceptional views of Dubai Marina.
Location: Dubai Marina, Skydive Dubai Drop Zone – Dubai
Read More: Best Places To Go Scuba Diving In The Dubai
10. Umm Suqeim Night Beach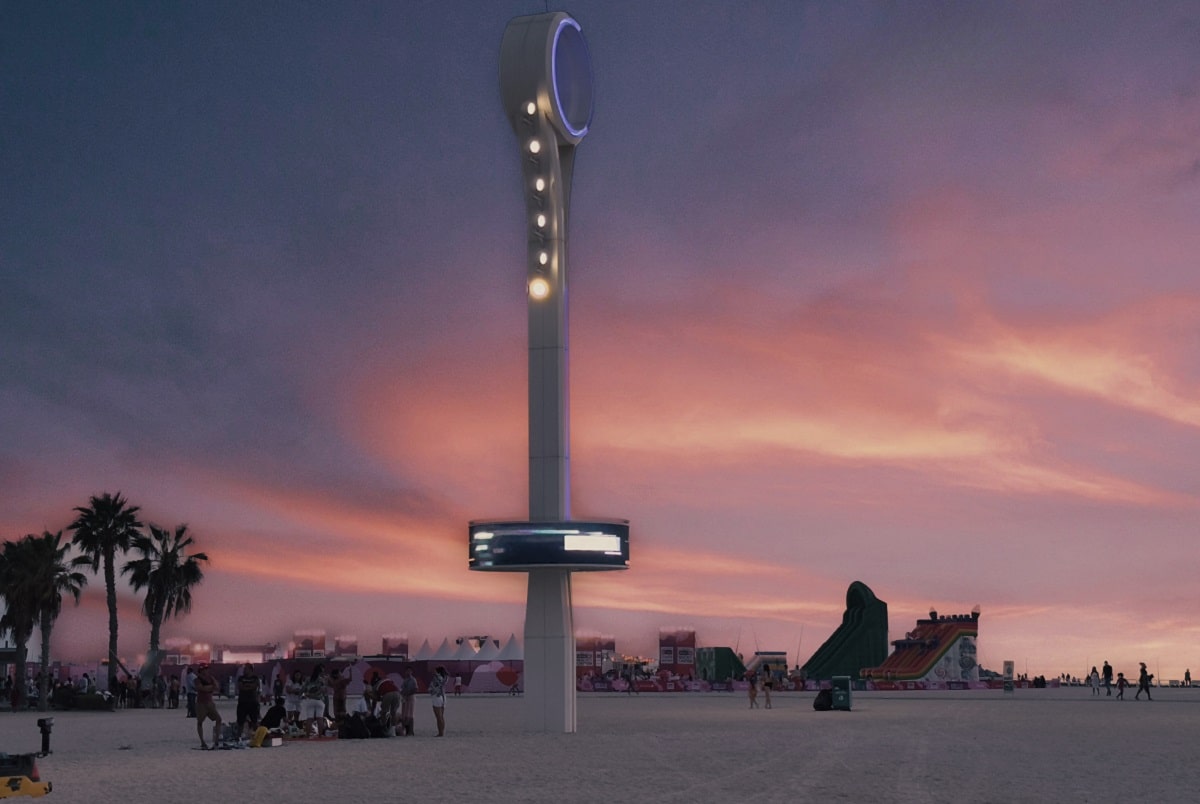 Umm Suqeim Night Beach in Dubai is a famous place for women who prefer night swimming for fun.
Suqeim Night Swimming Beach is specially designed for women's safety and privacy. Only women have access to the beach, making it a safe and welcoming place to swim and socialize without fear of harassment or discrimination.
The beach has been updated. with modern comforts. to improve the visitor experience. Visitors can change clothes and clean themselves before or after swimming in the on-site showers and changing rooms.
The beach receives enough light at night to create an atmosphere mystical. atmosphere and allow safe night swimming. With its picturesque setting and tranquil atmosphere, this beach is undoubtedly one of the best things to do in Dubai, United Arab Emirates. All ages and swimming abilities are welcome. to visit the night beach of Umm Suqeim. The beach is a great place for people of all swimming levels to relax and have fun. Visitors can relax knowing that they are safe and that lifeguards have a duty to protect them from harm.
By SSP